For the build post click here.
Here's my own project and result of a winter of hard graft and endless nights at the workshop.
I wanted to create something that I could use as an advert for the business that would stand out and catch attention on the track as well as at the hot rod shows. It does the trick.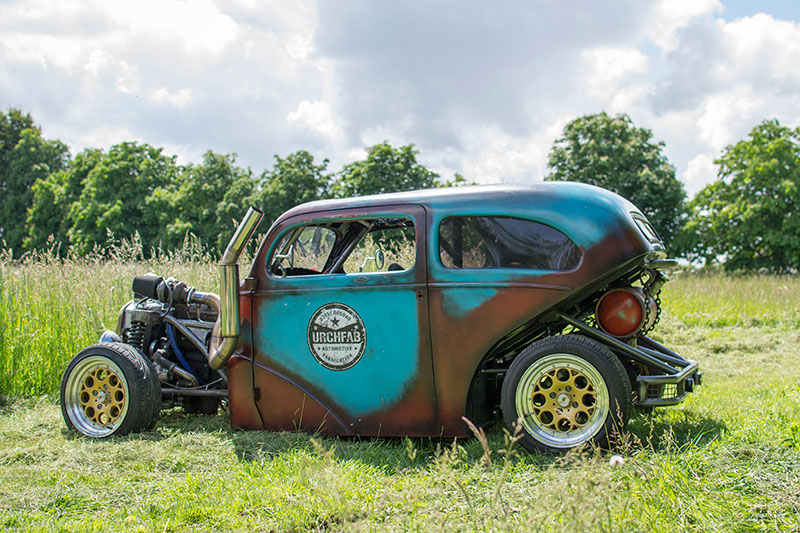 It looks right at home parked up next to the Rat fork which still runs like a watch, sort of.
The car has been built with next to no budget, I made use of parts I had lying around, parts from my local scrapyard modified to fit and made as much as possible from scratch.
It's running a standard turbo which smokes like goodun on a tubular manifold made from roll cage off cuts. I will be upgrading the turbo for a bigger one before long.
Bargain lights!

Inside is fitted with the bare essentials.
Given what I started off with I am really happy with how the back came out.
Not many hot rods run a McPherson strut setup but it made use of parts I had lying around and its a proven setup used on many drift cars.
The paint job is a bit of red oxide primer with some satin black dusted over then everything was coated in 2K satin lacquer.
So the end result is a very un-traditional hot rod different to any other on the planet. A Frankenstein of parts molded together to make something capable of hitting the track.
For me these cars are about making something cool out of whats available to you, learning new skills and having fun doing it.
Thanks to Airtec Cooling Solutions, R-Tech Welding, Knight's Body Shop, The Landshire Farm Crew and everyone else that's helped me out along the way.
Thanks for looking, Matt