This thing started life as a trusty old 1984 Honda CD200 Benly.
I bought it from an old boy who had owned it for decades. He was quite attached to it, but said he was happy for me to breath some new life into it.
Although I did tell him I was planning to restore it rather than mutilate it.
The bike ran great and had been well looked after so I got straight to the chopping.
I stripped it to a bare frame the cut the whole rear half off just leaving the engine cradle, I cut off all the unwanted tabs, welded up any holes and smoothed out any nasty looking welds.
Then I got the frame jigged up on the bench with more of a tilt to rake out the front forks and set about making a new rear end. This was made from scrap metal out of the bin, the seat pan was cut from a gas bottle and I cut the bosses for the shock mounts out of the old frame and reused them to mount the shocks.
I extended the standard swing arm by 6 inches and added some mounts with additional holes so the height of the rear could be adjusted.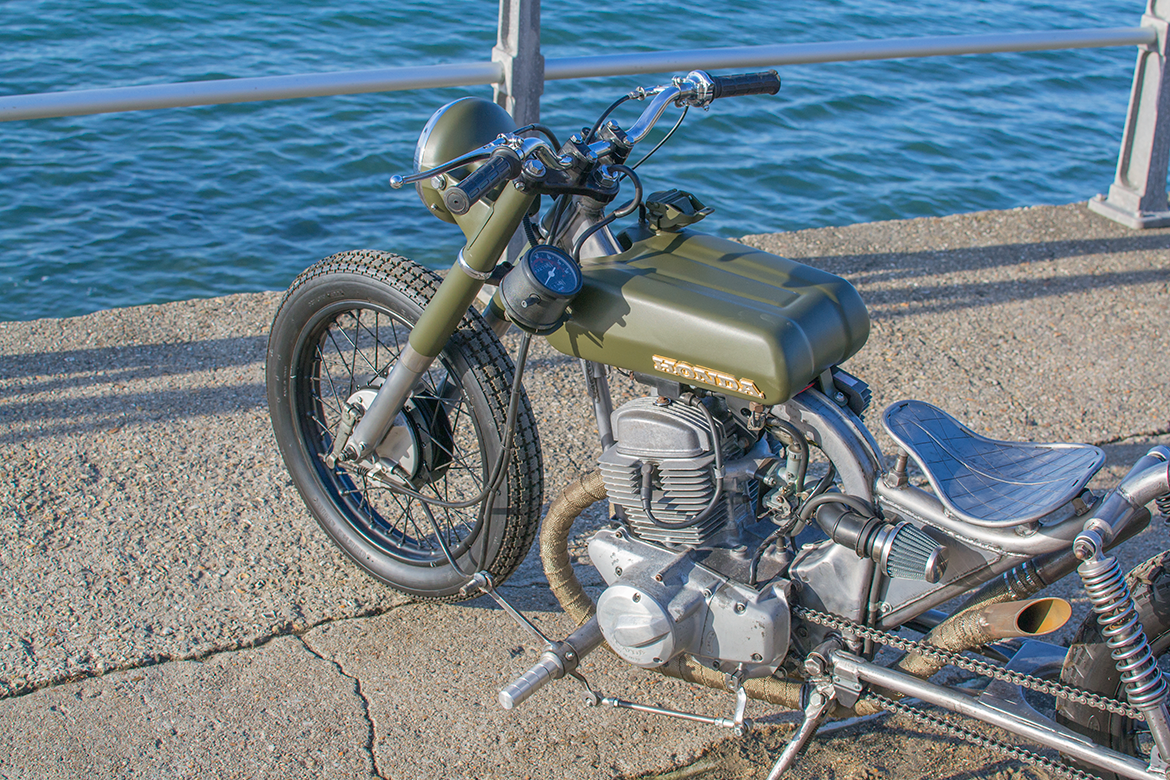 Then it was onto the foot controls, again all made from old junk welded together with some foot pegs I spun up on the lathe.
The fuel tank was made from an old jerry can cut up and welded back together, I reused the fuel tap and frame mounts from the old tank.
I removed all the unwanted electrics and ended up with just 2 switches for the whole bike, one to make it run and another 2 position switch for high and low beam, the side lights were on constant as soon as the bike was running.
My favourite part of the bike is the exhaust not only for the looks but it makes this 200cc motor sound awesome.
Last off was some 2k satin clear coat on the frame, nato green for the tank, I had the chrome wheels basted then painted satin black, deep cleaned all the parts and added a few new parts here and there.
I wanted to try and build a bike that was different to anything else I had seen, with the insane amount of custom bikes knocking around this is quite an ask but I think I might have done it.
For my first attempt at a custom bike I'm pretty happy with it but I already have the next bike planned out and its even weirder than this one, so keep your eyes out for that in the near future.
To see and hear this thing bob along in real time check this vid!